"What size of surfboard do I need?" This question is often posed to every surfer when deciding which surfboard to purchase. It is a known fact that your surfboard can influence your performance and development.
As a beginner, you might ponder which "big" surfboard to settle for. If you're a more experienced surfer, you might begin to wonder when to go for smaller (advanced) surfboards. In decision-making, you must consider some factors.
Do you need a befitting surfboard with respect to size? Then you're at the right place as I'll give an honest guide on how to go about it and other useful information. Let's get started!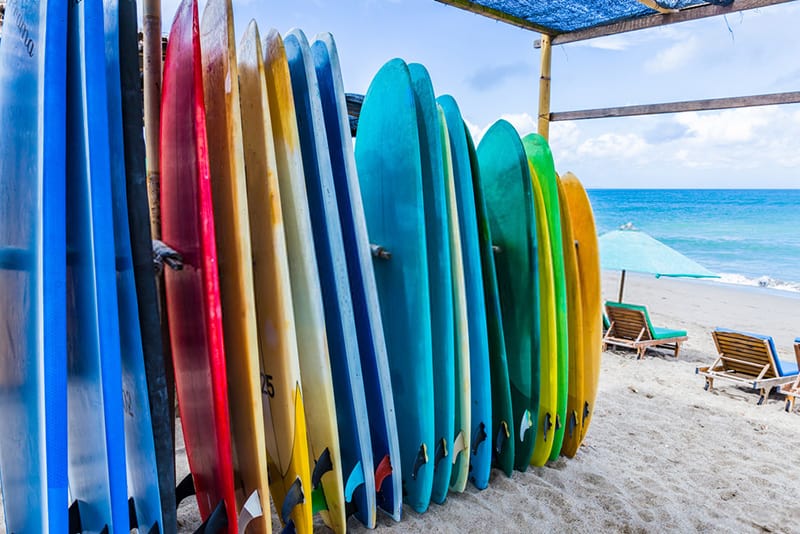 Determining Surfboard Sizes Correctly
You can only determine the size of your surfboard by the following attributes. In most scenarios, they are measured in feet and inches.
Length (L): It is measured from the nose tip of the surfboard to its very tail. It is often measured in feet and inches.
Width (W): It is measured from one side to the other along its visibly widest part.
Thickness (T): This is measured from the top of the surfboard to its bottom.
Choosing a Surfboard Size: Table Guides to Look At
Beginners are often advised to settle for high-volume surfboards or those with more thickness. You do not want to be worried about standing up while panicking about balance. Catching your first wave is much easier on longboards.
For experts whose focus is performance, it is much easier to wield a smaller surfboard. Taller/heavier riders should fancy slightly bigger boards. To help identify the right surfboard size, see table guides below.
Recall that your weight and surfboard volume can influence your performance. Therefore, by combining both tables, you can easily determine which surfboard size to go for.
1. Identifying the Right Volume for Your Weight
The following table identifies the ideal volumes for your weight with respect to your level of experience.
| | | | | |
| --- | --- | --- | --- | --- |
| Your Weight (KG) | Beginner (Liters) | Intermediate (Liters) | Advanced (Liters) | More Advanced (Liters) |
| 35 and less | 26 | 17 – 21 | 16 | 15 |
| 35 – 50 | 26 – 35 | 18 – 26 | 16 -20 | 15 – 19 |
| 50 – 75 | 35 – 51 | 23 – 31 | 20 – 29 | 19 – 27 |
| 75 – 100 | 51 – 68 | 29 – 42 | 28 – 38 | 26 – 35 |
| 100 – 120 | 68 – 78 | 37 – 48 | 36 – 42 | 35 – 39 |
| 120 and above | 78+ | 45+ | 42+ | 39+ |
2. Identifying the Right Surfboard Dimensions
The following table contains the best dimensions to match your weight. It would be best if you did not forget that the surfboard length takes priority. It can be a little tricky, but you should pick a surfboard without neglecting its labeled volume (liters).
| | | | |
| --- | --- | --- | --- |
| Your Weight (KG) | Surfboard Length | Surfboard Width | Surfboard Thickness |
| 45 or less | 6' less | 18.5" – 19" | 2.25" – 2.38" |
| 45 – 64 | 6' – 6'4" | 18.5" – 19" | 2.25" – 2.38" |
| 63 – 73 | 6'1" – 6'6" | 18.5" – 19.5" | 2.38" – 2.5" |
| 72 – 82 | 6'4" – 6'8" | 19" – 20.5" | 2.5" – 2.63" |
| 81 – 91 | 6'7" – 7'2" | 19.5" – 21.5" | 2.63" – 3" |
| 90+ | 7'1" + | 20.5" + | 3" + |
4 Factors to Consider When Choosing Surfboard Sizes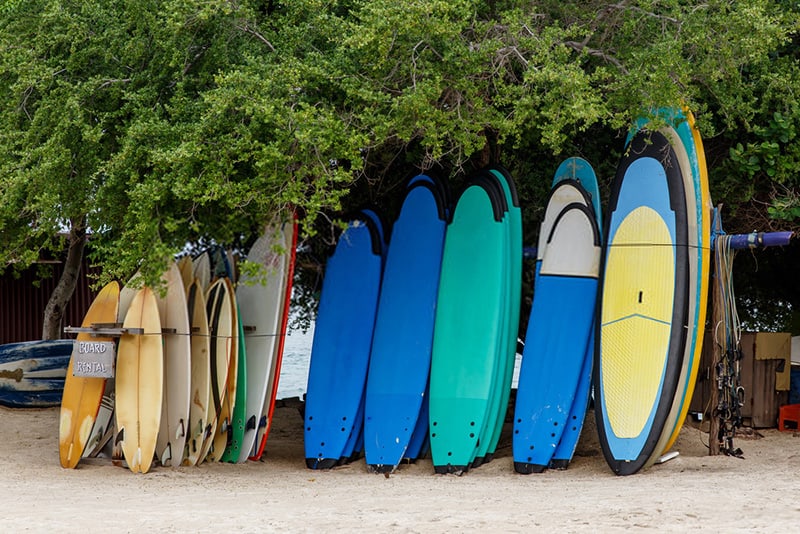 Knowing what to consider when choosing the right surfboard size is the first step to making the right decision. You are better informed in identifying what you need and how many factors come into place.
I have identified some essential factors to note. Therefore, you should only choose a surfboard if you have considered the following factors:
1. Your Weight
Yes, a surfboard's length, width, and thickness are important; another critical thing is its volume (buoyancy). The volume of a surfboard is the multiplication of its length, width, and thickness. However, it may still vary with shape.
When considering a surfboard size, you must be certain of its volume as it determines if it can accommodate your weight. The higher the volume, the bulkier the buoyancy. Also, the bigger the buoyancy, the more it can accommodate you.
Surfboard volumes are measured in liters. For instance, if you measure about 60 KG as a beginner, you should consider high-volume surfboards between 40 and 44 liters.
2. Your Age and Level of Fitness
Age and level of fitness are essential factors too. While many young surfers are full of adventure and interested in intense activities, you might just want to have a "gentle time" at sea.
Older surfers or those recovering from injuries are often advised to settle for the more forgiving longboards. They can ensure better balance and stability while enjoying the sport they love.
Even if you have selected a surfboard size, you still need to add a few liters (volume) if you are older. This is to ensure desired performance and protection. Younger surfers may ignore such anyway.
3. Your Level of Experience
Just like age, you also need to factor in your experience. Not every surfboard will give you the desired satisfaction, and you can grow extremely frustrated with a wrong choice. You can only be a beginner, intermediate, or expert.
Many coaches and experienced surfers like me will always recommend longboards to beginners. A beginner will be learning how to stand, paddle, catch their first wave, or find their balance. Longboards make it easier due to the reasons discussed above.
Experienced surfers, on the other hand, have several surfing times under their belt. Mostly, their attention is focused on developing tricks and trying out advanced moves. In such cases, the shortboards are ideal.
4. Location
Of course, you can surf wherever there are waves. However, wave sizes may vary with location. Some locations are unique for small wave sizes, and others have huge waves available every time.
Longboards are quite responsive and tend to catch waves pretty easily, making them good on small waves. Conversely, huge waves have plenty of momentum in them. In those locations, your performance will be best with shortboards.
The Two Distinct Surfboard Length Groups Available
Size is a very crucial aspect of surfboards, and it is essential to devote more time to it. When it comes to size, surfboards are broadly categorized into two. You can either have a longboard or a short one.
Of course, they come with unique benefits that define your performance and rate of development. You might want to say that their behaviors are directly opposite. Interestingly, they have relatively similar thicknesses and widths.
1. Longboard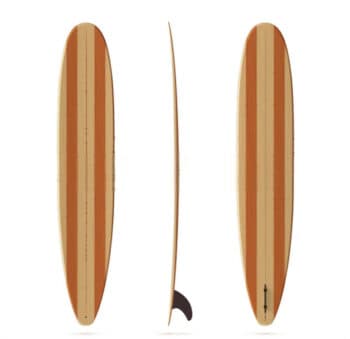 As the name suggests, this category consists of surfboards with huge lengths. These surfboards can go as long as nine feet. Generally, they start from eight to ten feet. Longboards are best for cruising, nose riding, tall/heavy surfers, and beginners.
Mostly fitted with a single fin, they are easy to ride, floating relatively easily, and responsive to small waves. You may find them difficult to maneuver in rough wave conditions. Here are some of its benefits and disadvantages.
Pros
Easy to catch waves.
High level of buoyancy, better stability, and excellent balance.
It can be paddled easily.
Enough room for movement.
Good for nose riding (hang ten).
Cons
Difficult to store or transport because of its size and may require car racks.
Heavy.
It can be challenging to maneuver.
May feel too sluggish to your moves.
2. Shortboard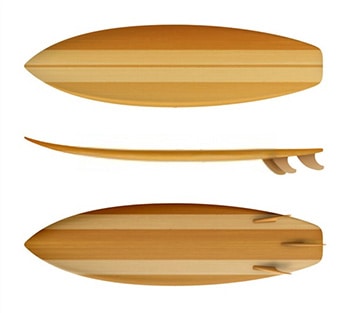 The opposite of the longboard is the shortboard, often coming with a length that varies between five and seven feet. They are designed for performance hence used by more experienced surfers.
Tricks are much easier on the shortboards, e.g., duck diving. They may come with more than one fin, which may vary in size. The following are some of its benefits and disadvantages.
Pros
More responsive to sharp turns and maneuvers.
Built for performance; good for experienced surfers.
Can do more advanced tricks, e.g., duck diving.
Easy to store or transport.
Lightweight.
Cons
It may not be easy to paddle.
Catching waves might be challenging.
Less volume; require high experience.
3. Funboards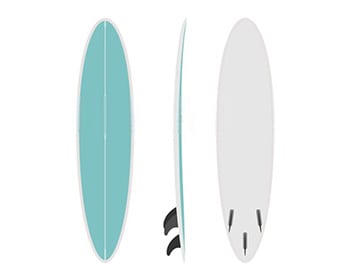 This set of surfboards are often classified as a separate category. But, in the real sense, they are longboards too. Their lengths usually range between six and eight feet.
However, funboards sit in between the longboards and shortboards in terms of performance. For beginners, it can be a good way to transition to shortboards. They are also well-used by experienced surfers.
How Does the Surfboard Shape Influence the Size to Go For?
Length, width, and thickness often determine a surfboard's volume. However, this can be different with some surfboards, and it is largely due to the shape of the surfboard. In other words, a surfboard's shape influences its volume.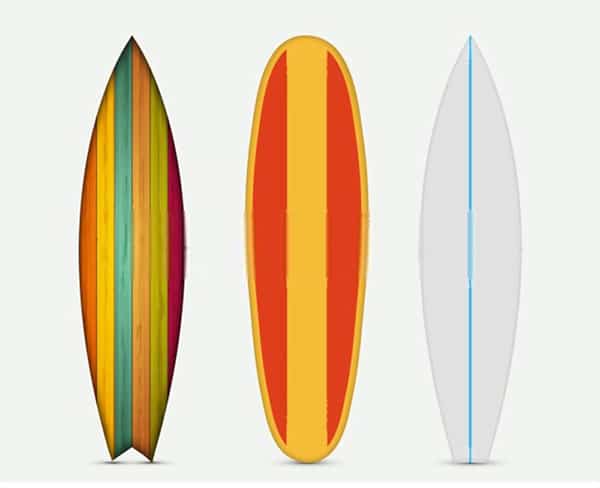 For instance, let's say we have a surfboard A with widths that vary slightly (and terminates with a blunt, wide nose and tail). And there is another surfboard B with widths that vary steeply (ends with a pointed nose and tail).
By measuring their length, width, and thickness using the format discussed above, they can have the same calculated volume. But, in truth, Surfboard A and B are distinct in shape. The fact is, the surfboard with a larger surface area offers higher volume.
In other words, surfboard A and B can have volumes of 40 and 34 liters despite having the same dimensions (L x W x T).
FAQs
If you have some questions concerning surfboard selection based on sizing, then you should read this section. Kindly take a look at some of the frequently asked questions answered below available. Let's proceed.
Is a Six-Foot Surfboard Good for Beginners?
The six-foot surfboards are categorized into shortboards which, obviously, it is. Since you are just starting off surfing, you may not have the expertise to handle such small surfboards. Frequent wipeouts and low balance may characterize your surfing session.
What Is the Best Size for a Beginner?
For any serious beginner, you should prioritize longboards. The bigger the surfboard, the better your satisfaction. Surfboards that measure above seven feet are ideal for beginners.
Read on: How to Choose a Surfboard Size for Beginners?
Can You Duck Dive With a Medium-Size Surfboard?
A medium-size surfboard is often referred to as a funboard. Being able to perform the duck-dive trick depends on your experience.
Generally, small-sized surfboards are better for such a trick than larger ones. This means that you may or may not be able to pull it off, except you are an expert.
Does Surfboard Length Affect Its Volume?
Yes. The length of the surfboard takes a bigger chunk in determining the volume of a surfboard. The longer the surfboard, the bigger its volume.
Conclusion
Somehow, you'll have to ask, "what size of surfboard do I need?" This question is much expected from any surfer and even more from beginners. The ideal surfboard size will help you achieve your desired performance with relative ease.
Factors such as your experience, age (and fitness), location (wave size), and weight are often crucial in decision-making. Ideally, beginners should consider longboards, and experienced surfers can do more tricks with the high-performance shortboard. Happy surfing!
I welcome questions, suggestions, or comments; therefore, please forward them to me using the comment section. Also, you can help other surfers identify what size of surfboard they need just by sharing my article. Simply click any of the social media buttons on the page to share.