Are you wondering what the paddle-out ceremony is all about? Then it would be best if you tagged along. Surfing is a popular sport that has experienced immense participation from the young and old, and males and females.
Several traditions, events, and tenets are being observed in the surfing culture. Beyond just recreation or competition, the social aspect of surfing is something you should also partake in. Surfing is fun as well as the traditions associated with it.
One of those popular events to look out for is the paddle-out ceremony. Perhaps you haven't witnessed one, or you want to know more about it, here is an opportunity.
I will discuss all that you need to know, what to expect and how you can partake fully. Let's get started.
What is a Paddle-Out Ceremony?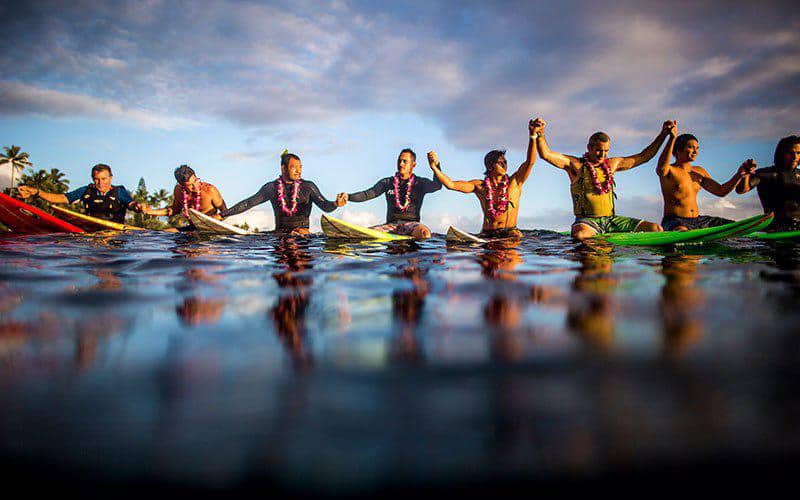 There is a long history of surfing in Hawaii, and it has gained much ground in the Hawaiian culture. However, surfing has evolved beyond mere recreation, and competitions are now scheduled annually with professionals aiming a prize.
Ancient Hawaii would settle disputes, exert superiority and even perform sacred rites through surfing. The paddle-out ceremony, a part of the tradition, is a popular event that has remained relevant to date. So what is a paddle-out ceremony?
Not many individuals understand the motive behind paddle-out ceremonies and what it entails. A paddle-out ceremony is a memorial or the celebration of the lives of dear people. It may or may not incorporate some degree of spirituality.
Meaning Of Paddle-Out Ceremonies
Paddle-out ceremonies are performed as memorials. They are primarily to celebrate individuals that have positively influenced people while they were alive. In ancient culture, they are part of death rites to remove grief and emotions.
Lifeguards such as Ben Carlson of the Newport Beach lifeguard (died on duty in 2014) and the famous Eddie Aikau have memorials done in their names. Similarly, surfers are often honored (e.g., Andy Irons) and even non-surfing heroes.
Notwithstanding, paddle-out ceremonies may have other purposes. It may be a casual event or organized to boost the surfing culture. It can focus on building relationships as it includes activities such as holding hands.
What Happens During a Paddle Out Ceremonies?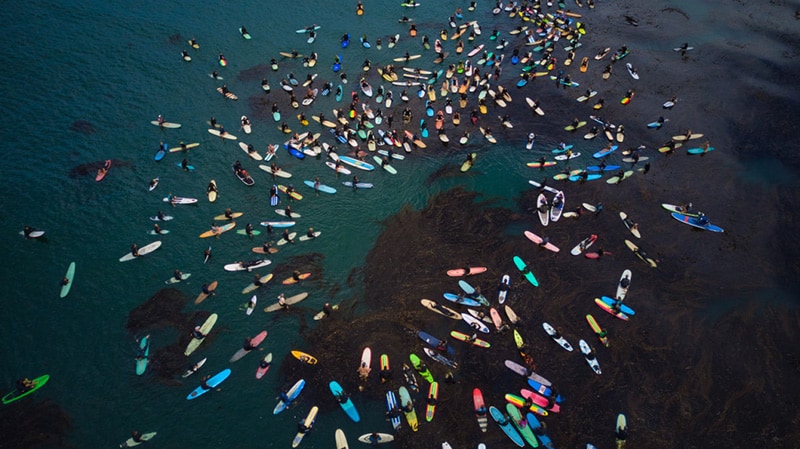 Several activities are done during paddle-out ceremonies. These activities and event's duration may vary depending on the primary reason for the ceremony. Notwithstanding, one sure thing is that it is done on the sea/ocean.
Also, participants get to use a paddleboard, either a rigid one or an inflatable standup paddleboard (ISUP). Without a doubt, some other similarities exist between paddle-out ceremonies.
In a paddle-out ceremony, guests and participants move together into the ocean on their paddleboards or sharing one. Often, people get to hold their hands in a circle while on the sea, sitting on their paddleboard.
By holding hands in a circle, the participants create a form a "symbol of Eternity" in remembrance of the honorable ones. While holding hands, they sing songs, shout chants and perform prayers. Some words and recitations may be done to honor and praise their impacts.
In case the ashes of the honorable one are available, they can be released into the ocean. However, if it is unavailable, freshly picked flowers may be thrown into the sea.
This symbolizes the reunion of the deceased with the ocean. In some cases, the board of the deceased (if available) may be brought to the ocean with flowers placed on it.
What Do Participants Bring or Wear?
This subject is an essential aspect of the event. Like other traditions, paddle-out ceremonies have some peculiarities. People are often faced with the question of what to bring or wear to the event. By now, you should know what you need.
In terms of dressing, you need to consider the temperature of the location and weather conditions. You need to consider your safety and comfort. Most times, surfing wetsuits are the best since they offer high protection and insulation.
Notwithstanding, you may also wear shorts, rash guards, booties, and gloves. In the case of less-experienced swimmers, it is recommended to wear life vests and similar gears for protection. Of course, you need a paddleboard or an ISUP.
Other things that may be brought to the event include flowers, candles, and more. You may also bring food items and snacks.
How Do You Organize a Paddle Out Ceremony?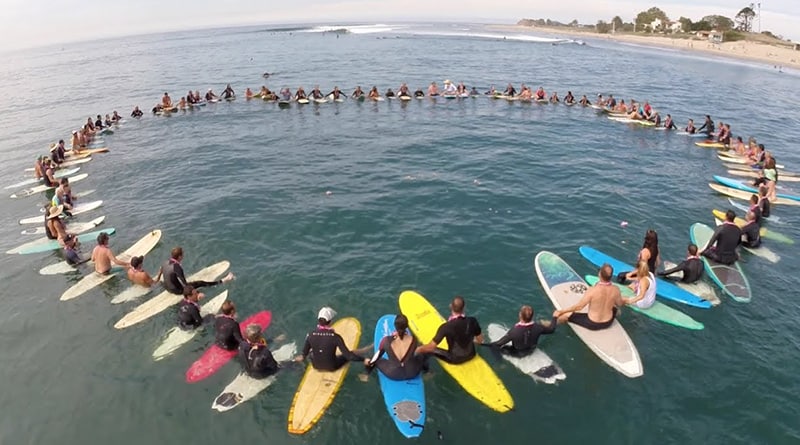 Paddle-out ceremonies are easy to plan as long as there are interested guests. Planning an event carefully will ensure orderliness, and you should not neglect safety and weather conditions. Make your plans and get the invites ready.
1. Select a Good Location
Before selecting a location, you should consider the safety of the guests. Ensure you check for the absence of harmful animals or poisonous plants. If you are not aware of such, you should confirm with the local authorities of the area.
2. Consider the Participants and Gear
Another thing is to determine the number of people that would show up at the ceremony. This will help you make plans ahead, especially if you want to make snacks, safety gear, or a rental facility available.
Also, you need to give them some information (including guidelines) prior to their arrival. This way, you can protect the participants and reduce the likelihood of emergencies.
You may keep them abreast of the protocol, choice of flowers, and other theme features of the event.
Conclusion
The paddle-out ceremony is a Hawaiian culture that has gained importance in recent times. It is intended to remember and honor the lives that have positively impacted society during their lifetime. Basically, it is a memorial service.
However, it also helps to foster unity and peace among those in attendance. Hence, beyond honoring the dead, you should get ready to make friends and form new relationships.
Should you want to partake in an upcoming paddle-out ceremony or plan one, you now know what to do with the aid of my article.
I will appreciate it if you share this article with other surfers, helping them know more about paddle-out ceremonies. To share, you can use the social media buttons on this page.
Questions, comments, and suggestions concerning paddle-out ceremonies are very much welcomed. You are allowed to share anyone you have with me via the comment section on this page.