Surfing is an interesting watersport with many interests (participants) around the world and still counting. Like many other sports, there are three common experience levels – beginner, intermediate, and expert.
Often times, the surfing culture may be less forgiving, especially to beginners. Hence, one might likely be called a kook. Of course, kooks are identified by some obvious attributes and behaviors.
In this article, I will be explaining to you, how to spot a kook in surfing. Peradventure, you exhibit such attributes and behaviors, I have included surf etiquettes and other tips to bail you out.
How to Spot a Kook in Surfing Easily?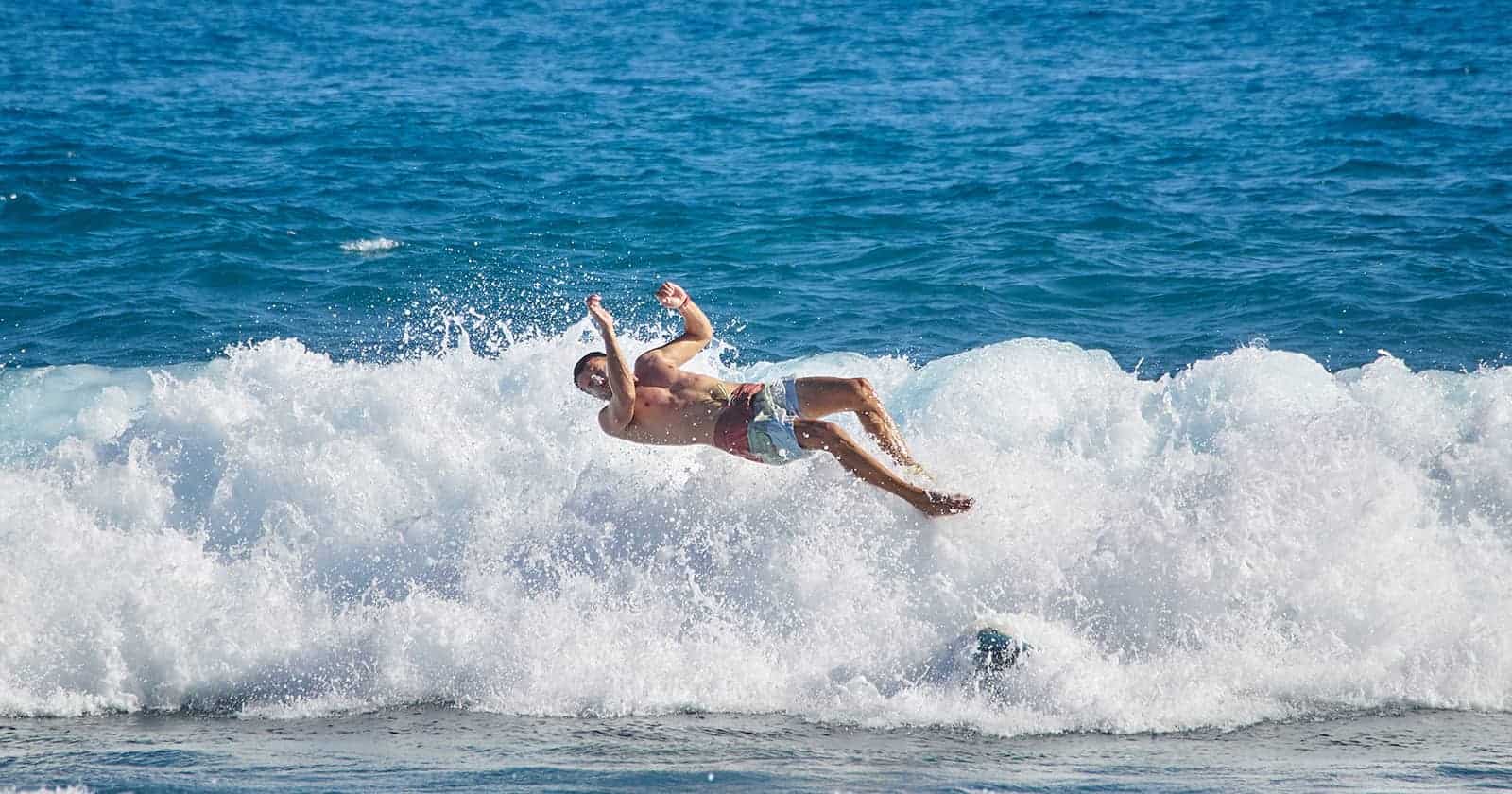 There are many clues on how to spot a kook in surfing. You may identify them with one or many actions they exhibit. But wait, who is a kook? A kook is a novice or beginner surfer that tries exhibiting the surfing lifestyle but ends up failing.
Kooks are often very ambiguous, careless, ridiculous, and odd. Most times, they exhibit some behaviors that give them off easily. To spot them easily, see my comprehensive below.
If you exhibit any of these, you should learn to avoid them. By understanding these basic pointers, you become very much aware of the surf etiquette.
1. Attempting to Surf With a Wrong Surfboard
The first and important aspect of surfing is knowing how to choose the right surfboard and, more importantly, the right size. A surfboard can determine if you're going to enjoy your time outdoors or not.
Various criteria need to be put into consideration such as your weight, height, and body size. There are different surfboards for different conditions.
When the surfboard seems too small or big for the surfer, it may attract unwanted attention from other surfers. By using larger surfboards in big waves, one might be advertising himself as a kook. Except the rider is an expert, small surfboards in small waves may look awkward too.
2. Applying Surf Wax Incorrectly
Another way to identify kooks is how they have waxed their surfboards. This is most common among beginners anyway. You will be able to know this from their waxing method, the consistency of the wax, and the intensity of the wax.
Some surfers may apply surf wax to the entire surface of the surfboard instead of the recommended two-third. In fact, some surfers may even use the wrong surf wax e.g. using cold wax in a hot, sunny condition. In some more funny scenarios, a kook may apply surf wax to both surfaces of the surfboard.
3. Wearing Wetsuits Incorrectly
Although wearing wetsuits isn't really difficult, however, some surfers still find it complicated. Some may wear it inside out or take a long time to even put it on at all.
Of course, there are different types of surfer's wetsuit, hence, the way you wear them is different. Most wetsuits have their logos in front so that's enough clue to help surfers wear their suit properly.
=> Check out the 10 Best Windsurfing Wetsuits in 2023 here!
4. Dragging the Surfboard
One of those funny habits of a kook is dragging their surfboards on the beach, especially by the nose or tail. Even if it is a quality, new surfboard, it can get damaged this way. Ideally, surfboards should be carried under the arms. Hence, it is ideal to always get a surfboard that you can carry conveniently.
5. Picking the Wrong Breaks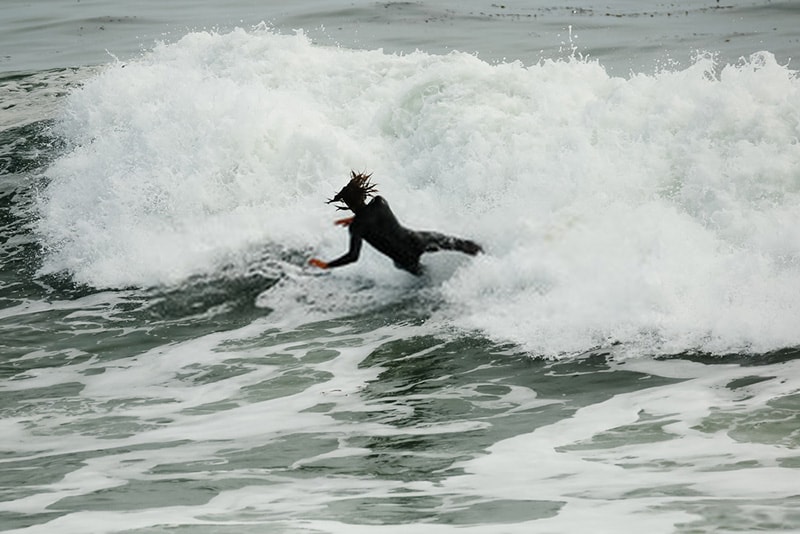 Finding the best wave to ride isn't an easy task and may require several attempts. Hence, consistent practice with help from coaches can go a long way. Since most kooks are beginners, they do not know which waves to catch and how to catch them.
Some waves are not safe to ride for beginners as they can be too big and overpowering. Surprisingly, you may see a beginner (certified kook) attempting to ride those types of waves. In a nutshell, their decision-making may be awkward.
6. Forgetting the Fins or Setting up Wrongly
There are various fin setups – single, quad, thruster, twin, and the 2+1 setup. All these are available to suit different wave conditions. One way or the other, they can impact the entire surfing experience, making one a better option for beginners than another.
If you see a surfer finding it hard to set up their fins, then you need not be told that the person is a kook. In some funny cases, these kooks may even forget to set up their fins.
Most people tend to take pictures and, maybe, videos when having a nice time on the beach. It kind of looks interesting and can be used for records and memories. Cool, right? However, it can be funny when some surfers attempt to overdo it.
You see them taking videos and pictures for long periods for the sake of show-off probably on social media. Some even take pictures while having a flat ocean behind them. It can be even frustrating when they crowd or make noise on the beach.
8. Funny Outfit
You don't need a soothsayer to tell you that funny or colorful outfits are prone to attracting unwanted attention. Other surfers may focus their attention on you with the aim of seeing what you are up to.
If one doesn't have enough skills or performance to show off, one may become the subject of discussion. Ultimately, one may be tagged a kook. Kooks also have many stickers on their surfboards.
9. Throwing the Surfboard Carelessly
You will identify a kook by the way they handle their surfboard. Surfboards can be very dangerous especially those coming with sharp, pointed edges.
Throwing a surfboard is a very careless thing to do as it can actually injure or even kill someone. Sometimes, one can fall or wipe out while surfing, hence, handling is extremely important.
It is best to always use a leash, especially if the surfer is a beginner. This will help maintain control over the board and also help avoid injuring others. They are even "kooker" if they wear their leash in the car park.
10. Dropping in on Someone
This is one of the most annoying things a kook can do. Often times, it is dangerous, offensive, and also perceived as a sign of disrespect. However, it may be done unintentionally by the surfer (kook).
Dropping in happens when surfer A ruins a wave for surfer B by cutting into paddling in front of surfer B. In other words, both surfers are aiming to ride the same wave and direction.
In surfing, there exists the culture of right-of-way, hence, it is one wave to one surfer. This helps to prevent crashing into one another, damaged surfboards, and even severe injuries.
Ideally, surfers should exercise patience, relax, and remain orderly. The waves will surely come and one can always continue riding again.
11. Snaking
Snaking is a common behavior among kooks, however, they might not know. It can be quite annoying and dangerous. This happens when a surfer paddles around other surfers in a bid to reach the peak of the wave and take priority. Instead, surfers should be patient and relaxed – there are many waves still coming.
12. Poor Posture
Balancing is an integral aspect of surfing and it involves finding one's center of gravity to achieve a proper posture (stance). With the right posture, a surfer can conveniently paddle and ride breaks easily.
When surfers can't maintain the right posture, they fall off easily and frustration might set in after multiple attempts. This is very common among beginners (kooks).
13. Easily Frustrated
Even with no experience, you will be able to identify kooks by their frustration. They find everything annoying and they are aggressive.
They are always battling with their wetsuits, falling off their surfboards, finding it hard to set up their fins, etc. They can be rude and become too serious. They may also be desperate to ride a wave by trying to catch every wave, ignoring many rules, and endangering other surfers.
7 Simple Tips for Beginners in Surfing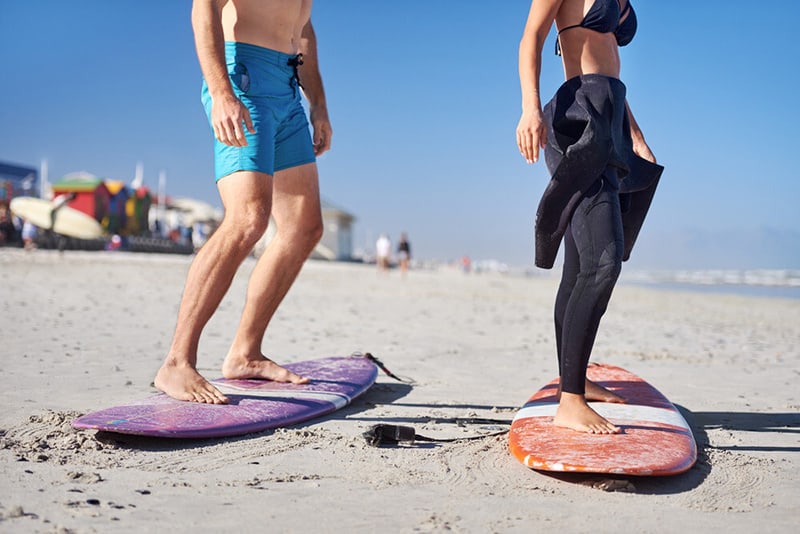 At one point in time, every expert surfer were beginners with little knowledge about surfing. To start with, learning how to pick the right surfboard, balance on the surfboard, ride the waves, and perform skills. To enjoy your surfing sessions, below are some tips for beginners in surfing.
See Also: 19 Tips for Beginner Surfers
1. Get Ready
Prior to your surfing sessions, you should eat healthily, have enough rest, and stay fit. You can engage in exercises that will keep you in good shape and also build your stamina.
Some weightlifting sessions, and cardio and endurance exercises will do you much good. You should also brush up your swimming skills so you don't end up drinking water after wipeouts.
2. Choose the Right Gears
To avoid being called a kook, ensure you get the right surfboard size, preferably a soft board. As a beginner, you should be looking to start off with a bigger surfboard relative to your body size.
Learn more about How to Choose a Surfboard Size for Beginners here!
Notwithstanding, it should be easy to carry without needing to drag it. You should also be able to wax your surfboard properly.
You should also get the right wetsuit, preferably a less noticeable one, undergarments, and goggles ready. Before coming to the beach, you should have, at least, learned how to wear your wetsuit.
3. Maintain the Right Attitude
At the beach, you should maintain the right attitude. You should be ready to learn, be humble, and give respect. Know your limits and always apologize if you offend someone. You should always respect the beach, the queues, and avoid dropping in on someone or snaking.
4. Start Small
Ideally, you should not be too competitive as a beginner. You should start small in small waves. This way you will be able to conveniently learn the basics of surfing without getting yourself a new name.
5. Consider Your Safety and That of Others
In whatever you are doing, safety first. You should get a safety leash to help you keep your board under control. You don't want your board to injure someone. You should also avoid throwing your surfboard and never attempt to dive without shielding yourself.
6. Observe Before You Decide
If it's your first time visiting a location, you should observe the traditions there. Ask questions and look out for warnings and information. Also, be smart when catching waves.
Decide and be deliberate in your actions, don't confuse others so you look appear to be snaking or dropping in. Learn to communicate your actions.
7. Have Fun
Avoid getting frustrated! Surfing is fun. Just relax, calm down, take deep breaths, and enjoy.
FAQs
It's possible that you've skipped some cogent points in the article or you've come here seeking answers. Therefore, I've compiled some frequently asked questions to help clear your mind.
Can I Teach Myself to Surf?
Yes, you can. It all depends on your dedication. With some guides and videos on the internet, you can do that. Be willing to learn, get a suitable surfboard and location, and ensure you follow the surfing etiquette.
Is Surfing Hard to Learn?
No. It's totally fun and simple. Just ensure you follow all the guides and surfing etiquette. Start with a good (big) surfboard and a good location (small waves). It's good if you have a tutor to put you through.
Conclusion
Most times, "kookish" actions are always attributed to beginner surfers. In some cases, they may be ignorant of these actions. By now, you should know how to spot a kook with relative ease using the 13 steps I've discussed above.
If you at all you exhibit such actions, now you can identify your faults and make the necessary amends. I have also included some tips to note as a beginner surfer.
Do you have any questions, suggestions, or comments? Please share them with other readers in the comments section.
Help your friends know to spot a kook in surfing and how to improve as a beginner surfer. Kindly share this article with them on Twitter, Facebook, and other social media platforms.