Few new surfers know how to do the Huntington hop on a surfboard. Some surfers do not even know anything about this surfing technique. While it may not be the cleanest surfing move, you may still find it helpful.
The Huntington hop is about boosting your surfing momentum. It is one of your best options if you are trying to get into action when the waves are not very favorable. Besides, nothing beats the confidence of knowing it all.
Do you want to understand how to do the Huntington hop? This article should be everything you need to understand this technique's basic details. Let's get started.
What Is the Huntington Hop?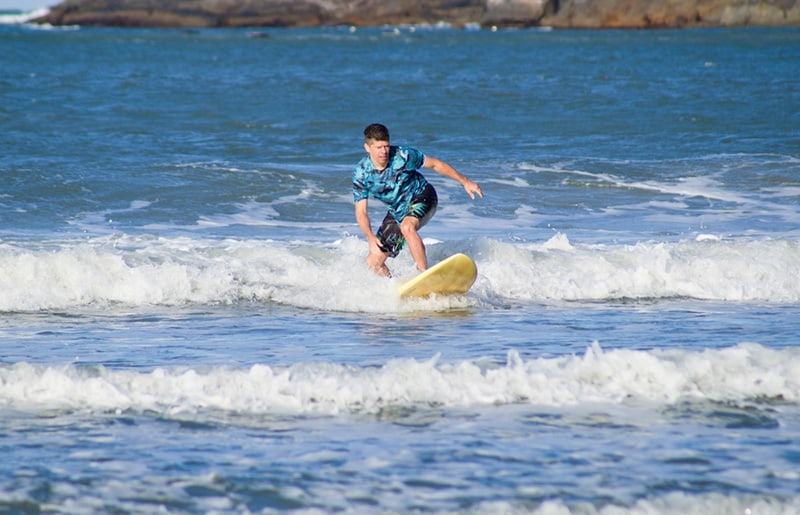 To be honest, the Huntington hop is not a clean surfing technique. It is not the easiest to perform as well. However, you will appreciate knowing how to do it properly in certain circumstances.
So, what is the Huntington hop? Surfing is about riding the waves. However, if there are no sufficient and suitable waves to ride, your surfboard will barely move to your satisfaction.
The Huntington hop is a familiar technique in surfing that helps surfers ride mushy, minor, or less powerful waves easily. Its name is probably influenced by its movement (hops and weaves) needed to catch a wave's potential.
The "Huntington" can be linked to surfing's US Open at Huntington beach, where the move became famous. With this technique, surfers do not have to worry about losing their momentum or speed.
Using the Huntington hop, you do not have to wipeout or swim into the larger wave sections ahead. You will be able to work your way right into those waves if you execute the technique correctly.
One peculiar attribute of the Huntington hop is the hopping motion, similar to pumping your surfboard. Hence, you are correct to say that the technique helps maintain or generate momentum.
In many instances, the shortboards offer the best results with this technique. The reason is due to their smaller surface area. Besides, shortboards are less sensitive to small waves, making it ideal to "hop".
You can appear awkward when performing this speed-generating move. However, you must know that the higher the pump (hop) intensity, the faster you move. At least, you will be able to get into the bigger waves quickly.
Some beginners often emulate this technique without knowing the details. What is more critical is executing it at the right time.
The Huntington hop can offer a significant advantage over other surfers, allowing you to finish quickly without falling off the surfboard.
6 Steps to Execute the Huntington Hop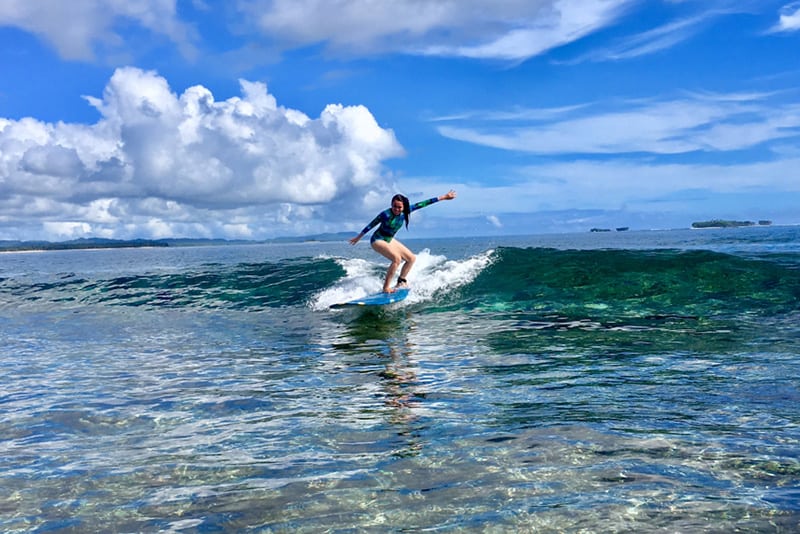 It is probably the ugliest maneuver in surfing and isn't very difficult to perform. With this technique, you can open up new challenges, riding wave sections you usually ignore. Besides, there is more fun to enjoy.
As discussed earlier, the Huntington hop allows you to ride small waves, including dying ones. If you have experience using skateboards, you will discover some similarities in the movements (the tic-tac).
Are you looking to enjoy surfing? Trying the Huntington hop is your best bet. You should be able to execute this technique ideally using the steps below.
Step 1: Get conscious of the waves
The first thing to do is to become sensitive to the waves. You need to be aware of when the waves start dying, and you begin to lose speed. With that awareness, you can determine where to move on to (the wave's inside section) and work towards it.
Step 2: Use your body to get into the wave
Now that you are set to move, you need to carry your body alongside. This step involves using your body to push into the wave section. You can do this by bending and leaning slightly forward. You need a proper surfing stance to achieve much in this step else a wipeout may happen. Apply additional weight on your front foot and put in the pressure.
Step 3: Stabilize yourself on the surfboard
While stabilizing yourself on the surfboard, use your back foot to push up the surfboard's nose. Then and again, put pressure on the front foot.
Step 4: Execute the hop
The previous two steps are the major moves in the Huntington hop technique. Repeat them consistently to achieve the "hop". Simultaneously, allow some flexibility on your upper body such that you flow with the movements of both legs. It may turn out that you are doing some jumps and turns on the water to generate speed for yourself without the wave's energy.
Step 5: Start with a lower profile
Ensure you keep a lower profile, especially during the early learning stages, until you perfect it. This way, you can maintain stability and minimize your chances of falling off your surfboard.
Step 6: Focus on having a smooth technique
Do not rush things to avoid making them even uglier and achieving nothing. Regardless, you have to be smooth and fast about it to reach your desired spot. Once you have achieved that, continue riding like you usually do and enjoy.
You can also watch the video below to learn more about how to practive the traditional Huntington Hop:
3 Essential Things to Note Before Doing the Huntington Hop
While the Huntington hop may seem shabby, you can still become better within a short time. Before trying out the Huntington hop, there are some other things you should be aware of.
Your choice of a surfboard is essential for this technique. Shortboards are ideal for the Huntington hop. However, you may have to go for a board with slightly more volume if you get less satisfaction.
Getting your surfboard to your desired speed can be tricky when the tide fills in.
Also, you should know that the Huntington hop is not an absolute way to get inside the wave. Sometimes, things may not work out. Hence, do not be afraid to "wipe out" and prepare for another wave.
Conclusion
Now, you know more about how to do the Huntington hop on a surfboard. The steps in this technique are relatable and not complicated. However, it requires some level of practice and consistency to master.
Be aware that the technique is not a hundred-percent means of getting on the inside of waves. Sometimes, your best bet is to leave the surfboard. However, with more experience, identifying which situations to use the Huntington hop becomes easy.
If you have questions or comments, I would appreciate forwarding them to me through the comment section. Also, sharing this article with other surfers can help them learn how to do the Huntington hop on a surfboard. Kindly use the social media buttons on the page.