How many calories does surfing burn? Surfing is a captivating watersport with plenty of adrenaline as you paddle into the water and catch waves for riding. It engages many parts of a surfer's body, even to their very toes.
Although it may be either for recreation or sport, it burns off a significant amount of calories per session. It takes a great deal beyond experience to coordinate one's body while remaining balanced on the massive rolling waves.
Every physical activity burns some calories in the body. If you are really curious to know how many calories surfing burns, this article is for you. Without further ado, let's proceed.
First, What Factors Can Affect the Number of Calories Burned?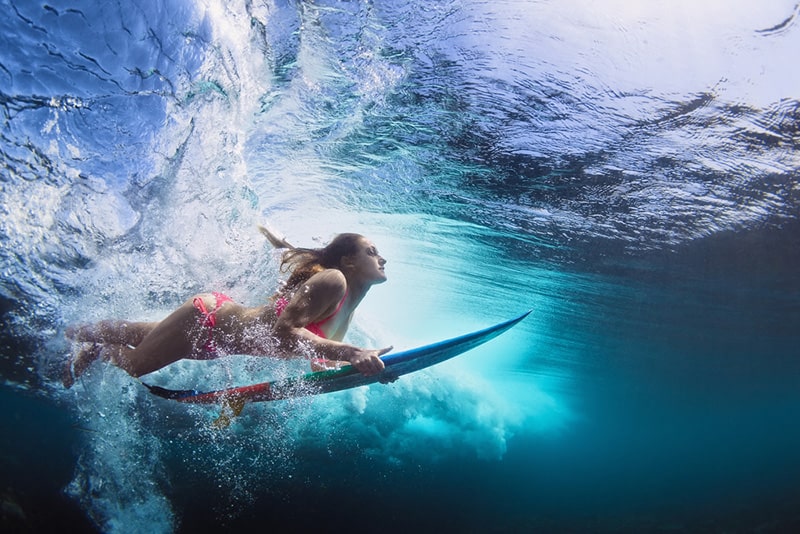 Physical activities such as surfing will always burn calories even within a short time. In surfing, you have to contend with and match the force of the waves, or you'll be wiped out in no time.
It is important to know that CALORIES is a unit of metabolic rate. While the number of calories burned may vary from person to person, some factors are more likely to be of influence. These factors are listed below.
a. Length of surfing session
As stated earlier, surfing is an intense sport. Therefore, for obvious reasons, the longer your surfing session, the higher the tendency of burning more calories. One way to let go of some calories is to surf for extended periods.
b. The wave sizes
Depending on your surfing location, you will expend more calories due to the wave sizes. Balancing on a surfboard, amidst the waves, requires a lot of energy.
On relaxed waves, you may burn fewer calories in an hour, e.g., approximately 250 calories. Moderate waves may squeeze out more juice (about 400 calories).
The situation is totally different with heavy waves since you have to be very alert and smart. Hence, you will burn the highest amount of calories per hour in such waves, e.g., 700 calories.
c. Your movement and efficiency
If you are an advanced surfer, smoother movements mean high surfing efficiency, allowing you to expend fewer calories. Beginners with their less perfect techniques will more likely burn more. This amount may be even higher based on their frequency of wipeouts.
Knowing how to wax your surfboard correctly with a reliable, suitable surf wax can reduce your wipeouts. Also, traction pads can be beneficial as well.
d. Environmental conditions
The body tends to react to the ambient temperature such that one's rate of metabolism increases during the cold. Body heat is essential to every human; hence, your body reacts to cold conditions by burning fat to keep you warm.
You might benefit from the insulative properties of a good, nice-fitting wetsuit. The undergarment choice for your wetsuit can also provide additional insulation.
e. Biological factors
Biological factors such as weight, height, age, adiposity, and sex can also be a determinant.
Estimating the Number of Calories Burned During Mid-Intensity Surfing
Understanding those common determining factors makes it easier to evaluate a surfer's metabolic rate while surfing. Generally, the higher the intensity of the activity, the faster the rate of metabolism and calories burned.
Below is a table giving a range of calories burned depending on the time spent on surfing and the surfer's weight. The values are in ranges because various factors discussed above can influence one's rate of metabolism.
| | | | | | | |
| --- | --- | --- | --- | --- | --- | --- |
| Body Weight/ Surfing Duration | 5 minutes | 10 minutes | 20 minutes | 30 minutes | 60 minutes | 120 minutes |
| 120 lbs | 25 – 28 Cal. | 50 – 55 Cal. | 100 – 110 Cal. | 145 – 165 Cal. | 290 – 331 Cal. | 600 – 662 Cal. |
| 150 lbs | 33 – 35 Cal. | 67 – 70 Cal. | 132 – 138 Cal. | 198 – 208 Cal. | 396 – 415 Cal. | 800 – 829 Cal. |
| 200 lbs | 46 – 49 Cal. | 92 – 97 Cal. | 184 – 193 Cal. | 276 – 290 Cal. | 552 – 576 Cal. | 900 – 1104 Cal. |
| 250 lbs | 57 – 64 Cal. | 115 – 127 Cal. | 230 – 252 Cal. | 345 – 378 Cal. | 690 – 750 Cal. | 1000 – 1382 Cal. |
Calculating Metabolic Rate During Surfing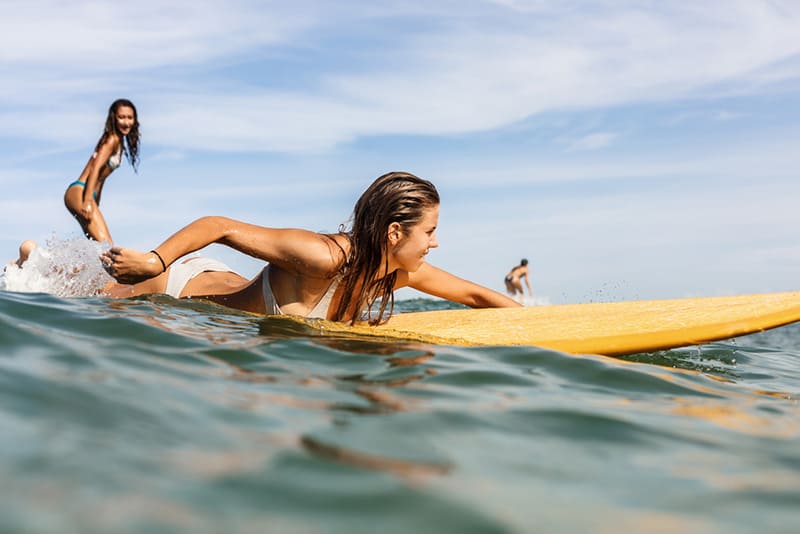 To add a little more precision when determining metabolic rates during surfing, you can do some calculations. The formula is pretty straightforward, and you should be able to use it properly.
Also, bear in mind that this formula can only give you a close value. A number of factors, including those discussed above, play an important role.
For the calculation, you need to measure your weight alongside the duration of your surfing. The Estimated amount of calories burned (EAOCB) formula is as follows.
EAOCB = (Your weight in Kilograms) x (MET Value of surfing) x 0.0175 x (duration of surfing in minutes)
Please note that the Metabolic Equivalent of Task (MET) value of surfing is 5.8. MET values are assigned to various activities based on multiple research works. For instance, running at 7mph has a MET value of 11.5.
To convert your weight from Kilograms to Pounds, you must divide your weight (in Kg) by 2.20462. Let's have an example. If a surfer weighing 160 pounds spent 45 minutes surfing, he would have burned about 331.6 calories.
Calculation:
Convert weight from Pounds (lbs.) to Kilogram (Kg) = 160/2.20462 = 72.6Kg
Estimated amount of calories burned = 72.6Kg x 5.8 x 0.0175 x 45 minutes = 331.6 calories.
This formula can provide a more acceptable estimate of your metabolic rate for every surfing session. However, some of the best surfing smartwatches can also predict one's rate of metabolism, but you may have to spend to acquire them.
Conclusion
Getting a precise answer to "how many calories does surfing burn" can be difficult. Nevertheless, you can get a realistic estimate based on a well-researched formula by taking into account your weight and surfing duration.
Knowing your metabolism rate can help you plan your diet and resting periods as a surfer. By now, you should be able to determine how many calories you burn for every surfing session. Happy surfing.
Should you have any comments or questions related to the topic, please reach out to me through the comments section on the page.
I'd appreciate it if you share my article with other surfers to help them know how much. Kindly share via Twitter, Facebook, and other social platforms by clicking on the corresponding buttons below.