You have loaded your surfboard and packed accessories into your surfboard bag and, now, you are ready to go surfing. You have gotten this new, attractive surfing wetsuit and you are raring to try it on.
You are faced with the question, "what do you wear under a wetsuit?". If it's your first time wearing wetsuits, have you ever wondered which appropriate undergarments to wear?
I will be covering various options that you can wear under your wetsuit. At the end of this article, you should able to determine which works best for you. Let's get started!
Why You Should Wear Something Under a Wetsuit?
Wearing wetsuits is not limited to surfing alone as there are also wetsuits for windsurfing and kayaking though little differences. Some people may choose to wear no undergarments under their wetsuits. That's not bad and it is absolutely normal.
In fact, some may argue that wetsuits provide the warmth and protection they need. Nevertheless, wearing undergarments come with many advantages and reasons. Below are some reasons why you should wear undergarments.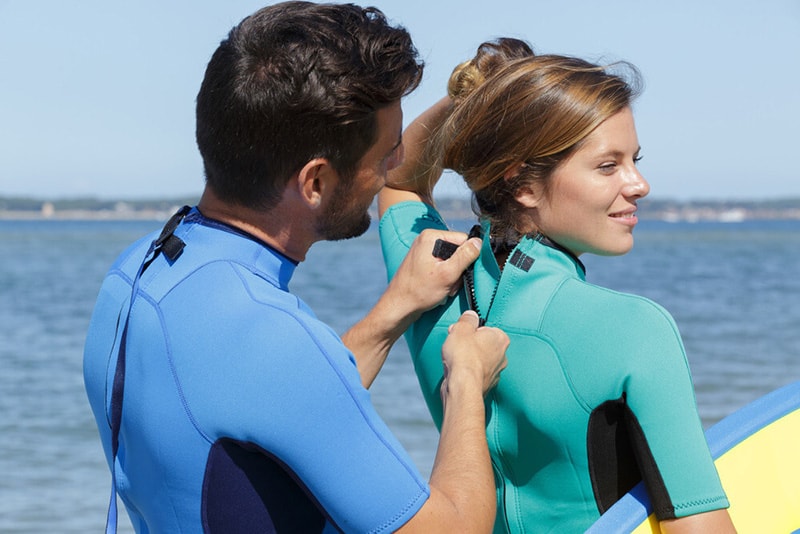 1. More Warmth and Protection
You know that chilling feeling when you step into cold water in winter. That's almost the same feeling when you enter or falling into the water without a wetsuit.
Although wetsuits are not water-proof, they provide insulation and warmth, particularly in cold water. Provided it's the right size for you, wetsuits trap a thin layer of water between itself and your skin.
The trapped water is then heated by the body heat and it subsequently provides the warmth you need. Notwithstanding, you can still wear undergarments under your wetsuit as it can significantly help you fare better in cold water.
They can help you trap more water and hence more heat. In addition, undergarments can help protect you more from chaffing, stings, insect bites, cuts, and even from the UV rays. Nevertheless, whatever you wear underneath must be with respect to the temperature of the water.
2. Increased Comfort
Sometimes, wearing wetsuits alone can be uncomfortable. Even though wetsuits are made from neoprene, a soft material, it can cause discomfort and sores if worn for extended periods.
It is very possible to experience chaffing especially in areas around the neck. Similarly, you may also experience discomfort in areas around your pubic area, armpits and/or behind your knees.
To increase comfort, then it will be good to use anti-chaffing cream but wearing undergarments is best. There are many types available and I will be discussing them later in the article.
3. Hygiene
If you don't have a wetsuit and you have rented one, you should definitely consider wearing undergarments. It is not for any other reasons but for hygienic reasons.
Earlier, I said it is very possible to experience chaffing when wearing wetsuits. You never can tell if the previous user wore undergarments. You can never tell if the person has skin-related infections or other contagious infections and direct contact with sensitive areas.
Putting on undergarments will help you avoid these things. You also not forget that some people even urinate in their wetsuits.
4. Convenience
Asides the aforementioned reasons/benefits, you may also consider this perspective-changing your clothes outside. If you will be using the wetsuit in a public place, an undergarment isn't bad to wear.
Wearing undergarments will keep unwanted attention as you try to undress. Also, you will not have to seek towels, restrooms, and other discreet areas.
In fact, wetsuits can prove very difficult to wear or put off. It is basically not what you can do immediately.
What Do You Wear Under a Wetsuit as a Male?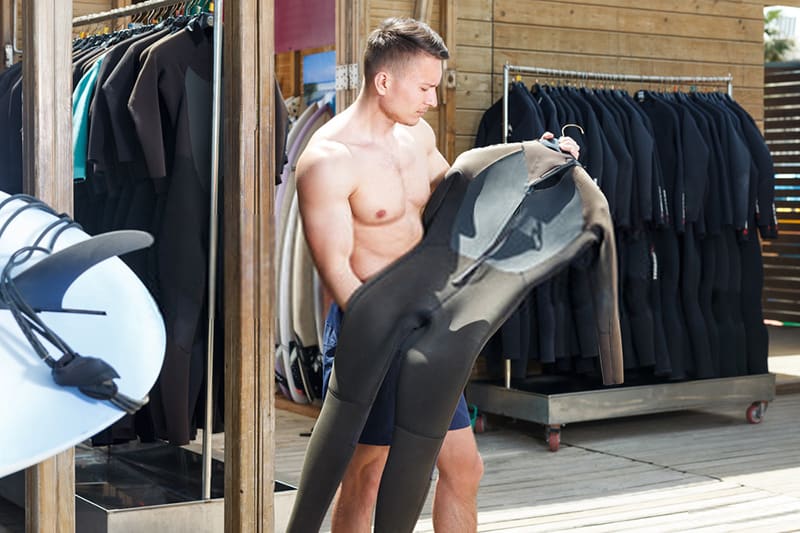 There are many choices available for men to wear as undergarments although it depends on your preference and needs. You can select an option below as long as you feel comfortable.
1. Board Shorts
Board shorts are quite popular among male surfers especially as an undergarment for wetsuits. However, they can wrinkle and bunch under your wetsuits, creating a significant amount of discomfort. To avoid this, always go for best-fitting ones and not bulky sizes when selecting your board shorts.
2. Diving Shorts
Diving shorts or snug-fitting bicycle shorts can perform quite well as an undergarment for almost any type of wetsuit. Asides being easy to wear, they are hardly noticed when worn under wetsuits.
Unlike the board shorts, they do not bunch or wrinkle. Most of them are made from stretchy neoprene rubber, hence, they are lightweight and flexible.
They also contribute significantly to insulation and protection. Interestingly, they are tight-fitting and frictionless which makes it easy for you to slide in or take off your wetsuits.
3. Briefs
Briefs are also common among men, however, they offer limited warmth and protection. Nevertheless, they are more comfortable and can help you protect your pubic area.
They are great for warm to hot conditions, allowing you to lose more steam. They are also good as undergarments for kayak wetsuits since less insulation is needed.
If you are settling for briefs, you should consider buying those made from Lycra instead of ordinary cotton. They are mostly more comfortable and significantly lightweight. Importantly, they are elastic and less likely to wrinkle.
4. Rashguards
The previous options all talk about the lower body. In some cases, you might need to protect and insulate your upper body. How about something for your upper body?
If you are keen on wearing something on your upper body, then you should go for rash guards. Rash guards are known for their protective characteristics plus they can add more warmth in cold waters.
They can help reduce chaffing and sore armpits. Furthermore, they act like compression shirts and help make it easier to wear and take off your wetsuit.
Depending on the temperature of the water and your preference, you can choose between a short-sleeved or long-sleeved rash guard. Check for comfy, lightweight materials especially those made from spandex and polyester.
5. Full-Body Jumpsuits
If you are looking for the best insulation and protection, then I suggest you go for the full-body jumpsuits. They offer better aesthetics and, in fact, make it extremely easy to wear or take off your jumpsuits. Just make sure you keep the zippers away from that of the wetsuit's zippers.
What Do You Wear Under a Wetsuit as a Female?
Women find it a little harder to determine what to wear under their wetsuit. Well, this may be attributed to their body and physique. As a female, you want to wear lightweight undergarments, feel very comfortable, and probably fashionable. Below are some impressive options you can settle for.
1. Diving Shorts
Women can also wear diving shorts since it is unisex. Their design ensures that they provide you great comfort under your wetsuit. No bunching instead expect more insulation.
2. Sleeveless Shirts
Sleeveless shirts are also common among women. They act more like compression shirts too but, since it is sleeveless, it provides more freedom. They fit so well under most types of wetsuits.
The best type of sleeveless shirts are those made from Lycra as they offer exceptional comfort. For more convenience, you can even go for those with drawstrings to keep it fitted on your body.
3. Full-Body Jumpsuit
Females also have full-body jumpsuits made for them. There are many full-body jumpsuits made from different materials with different thickness levels and coming with feminine shapes. Whatever you want to buy, make sure it is comfortable and stretchable.
4. One-Piece Swimsuit
Swimsuits may also function as a great undergarment for your wetsuit. However, you should not just pick any swimsuit. They fit snugly without wrinkling or bunching up. Go for those made from light, comfy and stretchable materials such as Lycra.
FAQs
It's possible that you've skipped some cogent points in the article or you've come here seeking answers. Therefore, I've compiled some frequently asked questions to help clear your mind.
Are Wetsuits Waterproof?
No. Unlike drysuits, wetsuits are not waterproof, even though the material (e.g. neoprene) used may be waterproof. In fact, the way wetsuits work means they cannot be waterproof. A typical wetsuit relies on a thin layer of trapped water to help you retain heat.
Why Are Wetsuits Always Black?
It's true that most wetsuits are black however there are other colors too. It gives you an advantage – black color absorbs and retains more heat energy than other colors.
Can You Wear a Bra Under a Wetsuit?
Sure. You can wear your bra underneath. However, it should be sports bras since that can cope with the harsh chemical conditions of seawater. Also, you should avoid bras with things that can make you uncomfortable after you've worn your wetsuit such as hooks.
Conclusion
What do you wear under a wetsuit? There are many choices to pick from whether you are a male or female. By now, you should be able to determine what to wear under your wetsuit.
When buying or renting wetsuits, always pay attention to the material and size. Baggy wetsuits won't do well in terms of insulation and, conversely, smaller ones will bring discomfort.
The same thing applies to whatever choice of undergarment. Whatever you wear under your wetsuit will determine the level of comfort you will have. For added convenience, you can also checkout for quick-drying options too.
Do you have any questions, suggestions, or comments? Please share them with other readers in the comments section.
Help your friends determine what to wear under their wetsuits by sharing this article with them on Twitter, Facebook, and other social media platforms.