The debate, inflatable vs. hard paddle boards, is not unusual when riders, especially beginners, are making a decision on paddleboards. There are several options under each paddleboard type, and decision-making can be difficult.
There is no clear winner or loser as there are various advantages for different circumstances. Therefore, identifying the right type of paddleboard for you depends on your preferences. It is normal to feel unsure of what to do.
This article contains everything you need to know about inflatable and hard paddle boards, including their advantages and differences. Your decision-making process should be made easier provided you read through carefully. Let's get started.
Quick Comparison: Inflatable vs. Hard Paddle Boards
To save time and for faster understanding, I have created a quick comparison table below. Let's have a look.
| | | |
| --- | --- | --- |
| Subject | Inflatable Paddle Boards | Hard Paddle Boards |
| Portability | Lightweight | Heavier |
| Durability | Highly durable but difficult to repair. | Less durable; susceptible to dents and knocks; easier to repair. |
| Storage | It can be rolled up into bags and a car trunk. | Occupies more space and may need a car rack. |
| Performance | Very stable, less maneuverable, and low speed. | Smooth rides, maneuverable, impressive tracking, and high speed. |
| Ideal for | Low-intensity activities; Recreation. | Speeding; Racing. |
4 Advantages Associated With Inflatable Paddle Boards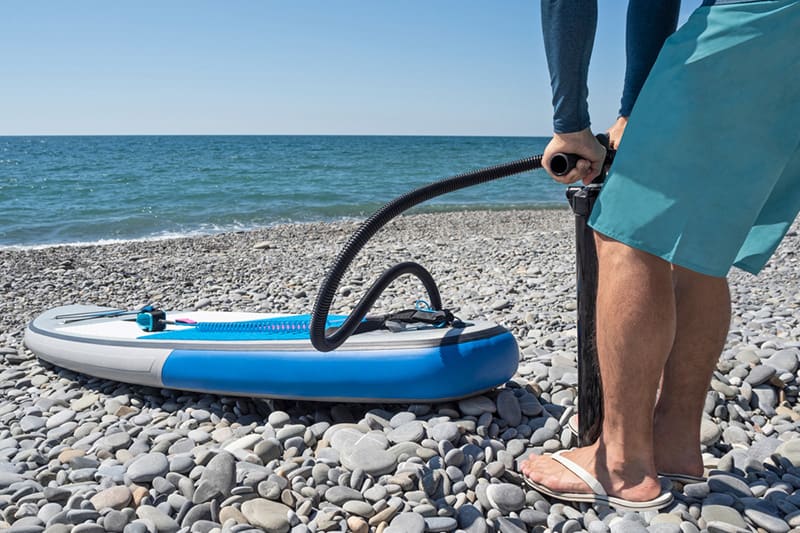 Inflatable paddle boards are just as common as hard boards for some reason. The following are the top four advantages associated with inflatable paddle boards:
1. Durability
This may sound quite unexpected. Inflatable paddle boards may appear soft, but they are more durable than hard paddleboards. Since they are inflatable, they are less prone to damage, dents, and scratches are less common.
Many quality iSUPs are made from military-grade or heavy-duty materials with a reliable core for strength. They can bend, flex, and curve during impact, thus minimizing damage. Hence, it will take a lot to puncture them.
Interestingly, you are also less likely to injure yourself when you fall on them. This makes them very beginner-friendly.
2. Lightweight and Stability
Inflatable paddle boards are lightweight in nature, coming without those heavy materials used in the hard boards. When compared with similar size of hardboard, they are lighter with a higher weight capacity.
Due to their nature, they also offer better stability and are less slippery when wet. They also stay rigid and balanced on water, giving you the nicest feel. Beginners will love this attribute about iSUPs.
3. Portability
Tourists and leisure seekers will delight in the portability offered by the inflatable paddleboards. They can be folded, rolled up, or squeezed into smaller spaces that hardboards won't fit. They are lightweight hence easy to carry.
You can even use a carrying case to move your paddleboard. They are easy to store and shouldn't occupy all your closet or room (if you have a small room). However, you might need a car rack for hard boards.
4. Ideal for Recreation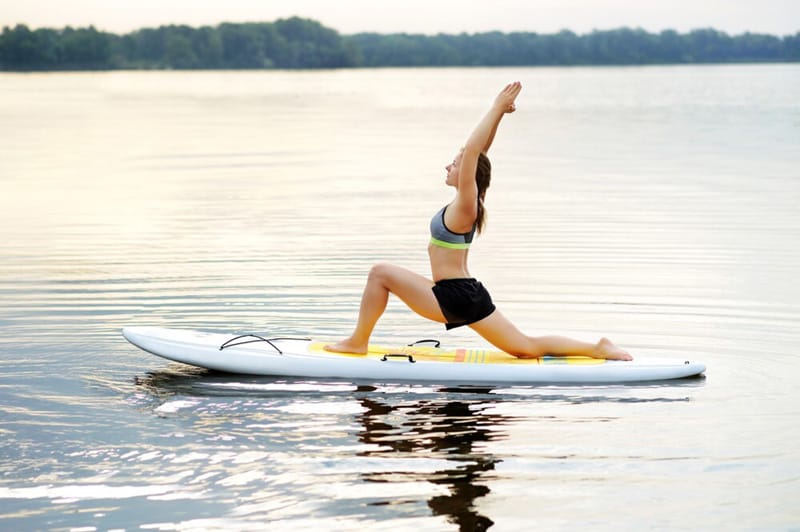 Owing to the previous advantages, inflatable paddle boards make a good choice for recreational paddle boarding. They do not require a high level of expertise to use them. They are good for non-intense or less speed-oriented activities.
For instance, you can use them for fishing, yoga, and other recreational purposes. They are stable, which makes them good for "new" beginners. Just the basics, and you are good to go, especially on shallow water or whitewater.
4 Advantages Associated With Hard Paddle Boards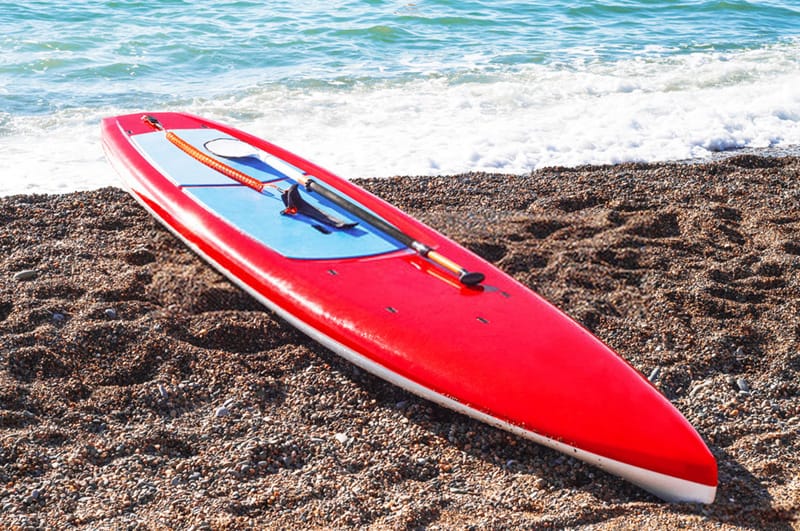 The hard paddle boards are well-appreciated by intermediates and advanced riders. The following are the top four advantages associated with hard paddleboards:
1. Better Performance
If you are looking for a robust-performing paddleboard, you should only look among the hard paddleboards. Indeed, the hard SUPs offer great stability; you may feel too sluggish in terms of control and speed.
These hard paddleboards track, glide and slide faster while sustaining a higher momentum while riding. In many cases, they can also possess a smaller thickness and thinner hulls than their inflatable counterparts.
2. Good for Surfing and Windy Conditions
Surfing is much enjoyable when riding with boards with excellent maneuverability. Hard paddle boards fit nicely into this requirement. This explains why there are fewer or no inflatable surfboards to buy.
Inflatable paddle boards are quite responsive to waves, but their low rigidity often puts them at a disadvantage. With hard boards, you can also enjoy speed, impressive tracking, and smoother glide.
Wind can also influence the performance of inflatable paddle boards. Although wind can generally affect paddleboards, the hard boards are better in such conditions thanks to their rigidity and weight.
See Also: Top 5 Best Windsurfing Boards in 2023
3. Maintains Shape
Performance-wise, the shape of a paddleboard plays a very critical role. However, little can be done shaping the inflatable board; else, they may lose their rigidity. For hard boards, the case is totally different.
The nature of the material used in making hard boards means they can be designed to be narrow/wide or pointed/blunt. They also feature displacement hulls for smoother rides. These things mean impressive tracking and speed advantages over iSUPs.
4. Easy to Manage
Even though hard boards are susceptible to dents and scratches, they are still easier to maintain and repair. You do not need pumps that delay you from getting into the action quickly.
Furthermore, you do not need to be mindful of punctures. Inflatable paddle boards also wear or degrade over time and might be unable to hold in air.
FAQs
If you have some questions related to hard and inflatable paddle boards, then you should check this section. I have researched and gathered some of the frequently asked questions available.
What Are Inflatable Paddle Boards?
The inflatable paddle boards (iSUPs), as the name suggests, are a type of paddle board that can be inflated with a pump and deflated after use. They are made from PVC plastic and woven fiber that run on the inside of the iSUPs.
They are lightweight, measuring between 15 and 30 pounds. Also, they come with a valve and pump. In most cases, you are to keep the pressure of about 15 to 17 psi in your paddleboard.
Some inflatable paddle boards come with some features for added strength and stiffness, e.g., rods or carbon strips.
When Do You Need an iSUP?
The inflatable paddle boards offer convenience such that you can easily fit them into carrying bags and car trunks. Therefore, if you are worried about space or live far from the beach, you might appreciate these boards more.
Also, inflatable paddle boards are ideal if you are riding in shallow waters, whitewater, rivers, or areas with rocks or boulders. Interestingly, they are more durable and less susceptible to dents and knocks, even in rapids.
How Long Do Inflatable Paddle Boards Last?
The lifespan of your inflatable paddle board depends on its quality, maintenance, and intensity of usage. However, it should last between two and ten years.
Can Inflatable Paddle Boards Be Repaired?
Yes. Inflatable paddle boards can be repaired. Some manufacturers may offer such gestures. But the most important thing is to visit an expert/experienced repairer to avoid further damage and waste of money.
What Are Hard Paddle Boards?
Unlike the inflatable paddle boards, the hard paddle boards are made from rigid materials; hence, inflation is needless. Materials such as fiberglass, wood, epoxy, foam, plastic, or a combination of any are commonly used for these paddleboards.
You do not need pumps, and they are generally thinner than their inflatable counterparts. They tend to maintain their outline pretty well. You do not have to worry about punctures.
When Do You Need a Hard Paddle Board?
If your priority is racing and speed, the hard paddle boards are perfect for desirable responsiveness. In terms of performance, they are fantastic as they have more definite shapes.
Conclusion
There isn't any reason to go on the paddleboard debate – inflatable vs. hard paddle boards. The type of paddleboard you settle for depends on what you want to use it for. That should be your primary decider.
If you are interested in recreation, the inflatable boards will be ideal for you. If your priority is performance, you should consider the hard boards. Whatever choice you make, ensure you read their reviews before buying them.
If you have some remarks, comments, or questions, kindly send them to me via the comment section. Also, you can help other people learn about inflatable and hard paddleboards by sharing my article. Kindly use the social media buttons on the page.
Related Articles: