Due to surf waxes and other factors, surfboards become dirty, and it is important to know how to clean a surfboard. Waxing your surfboard has many advantages, but there's little you can do regarding dirt accumulation.
Every surfboard is expected to take care of their surfboard, and, interestingly, the procedure is very simple. Cleaning your surfboard is essential to maintain its lifespan and aesthetics and your performance and safety whenever you use it.
This article contains all you need to know about cleaning your surfboard perfectly. Irrespective of your experience level, you should be able to get the hang of it easily. Let's get started!
Why Does Your Surfboard Get Dirty?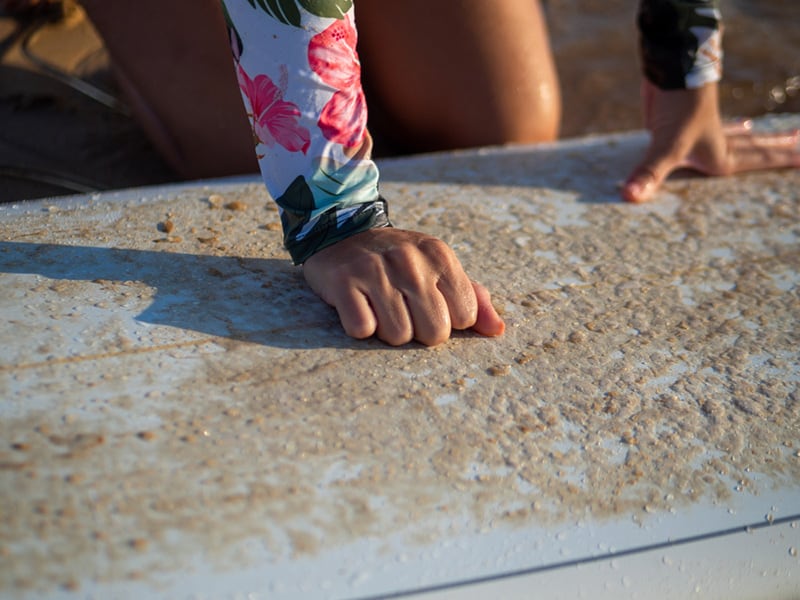 Let's start this way. In the real sense, it isn't your surfboard that accumulates dirt. Surf wax is the culprit, and most of the dirt you see on your board is stuck in it.
Surf waxes are an essential accessory to wave riders. They allow you to maintain the perfect traction and balance for your desired performance. These waxes are commonly made of beeswax, paraffin, petroleum jelly, resin, etc.
Since surf wax behaves like adhesives, it can get dirty if you have dirty feet. They can collect sand while at the beach. In your store, more dirt can also gather on the surfboard. Hence, your best bet is to clean it.
What Do You Need to Clean a Surfboard?
Like I stated earlier, the procedure for cleaning your surfboard isn't very difficult. Consequently, you do not need many or complicated tools. The things you need include:
Wax comb – comes with two sides (serrated and flat sides).
A clean cloth.
A towel for drying.
Coconut oil.
Special surfboard cleaner or wax removal liquid (optional).
How to Clean a Surfboard Perfectly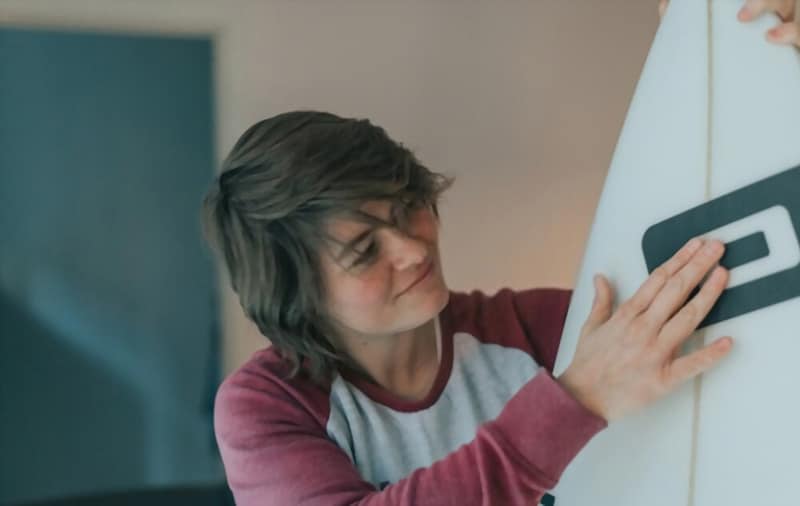 You are more likely to clean your surfboard more frequently if you surf in warm conditions or areas. Also, some locations contain more dirt than others. Nevertheless, you can still clean it effectively as desired.
With the items listed above, you have everything you need to clean your surfboard properly. Now, the procedure is as follows. They are simple and precise.
1. Heat the Surfboard Gently
The first thing to do is not soften the old wax on the dirty surfboard. Softening it will allow you to clean the surfboard easier and also prevent any damage (dents or scratches) to your surfboard.
It may take a while to soften, depending on the number of coats applied. To do this, you can simply put your surfboard in the sunlight for a few minutes. Alternatively, you can use your hairdryer, especially on a cloudy day.
There's a caveat – do not apply too much heat or leave in the sun for long periods. Do not overheat a single spot with your hairdryer. This can cause undesired effects on the surfboard, such as degraded skin.
2. Using the Wax Comb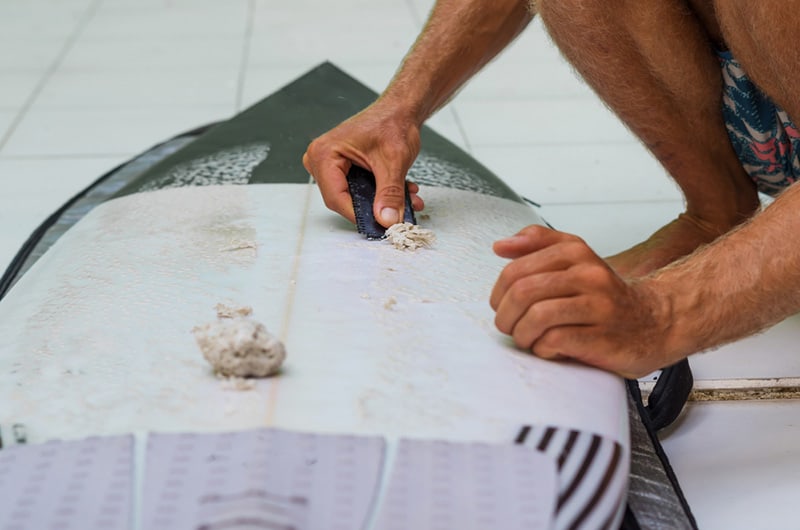 The wax comb must have two distinct sides – one with a serrated edge and another with a flat edge. Use the serrated side of the comb to make patterns to loosen the wax.
Preferably, create a diamond pattern by making shape cuts in a diagonal format from both sides of the board. Ensure you reach the base coat for better cleaning efficiency. Once done, clean the comb properly.
Now, you have to use the flat side to finish up the scrapping process. Since the wax is softened and loosened, you should find it relatively easier to scrape off. Scrape it carefully until the topcoat and the base wax are fully removed.
3. Pour Some Warm Water on the Board
After scraping the wax off the surfboard, some light amount may remain on it. You might not be able to get them off totally with the wax comb. Therefore, pour some warm water on the board and wipe with a towel.
4. Apply the Special Surfboard Cleaner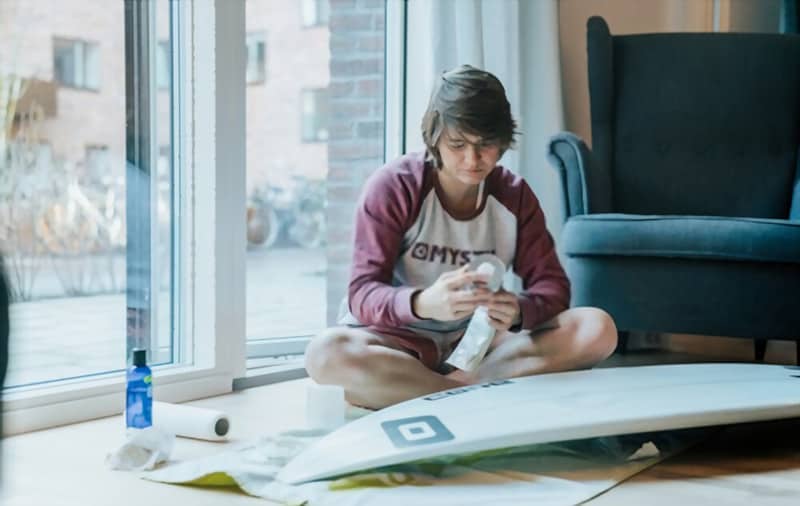 Despite scraping and pouring some warm water on the board, some wax can still exist that may seem unnoticeable. You may feel it there with your fingers, and they cause issues when re-waxing.
The special surfboard wax cleaner can help you remove every wax from the surfboard. They often come as a liquid spray, and the usage instructions may vary.
You should ensure it doesn't stay too long on the surfboard. Once the time elapsed, wipe the entire surfboard with a damp towel or cloth
5. Wipe With Coconut Oil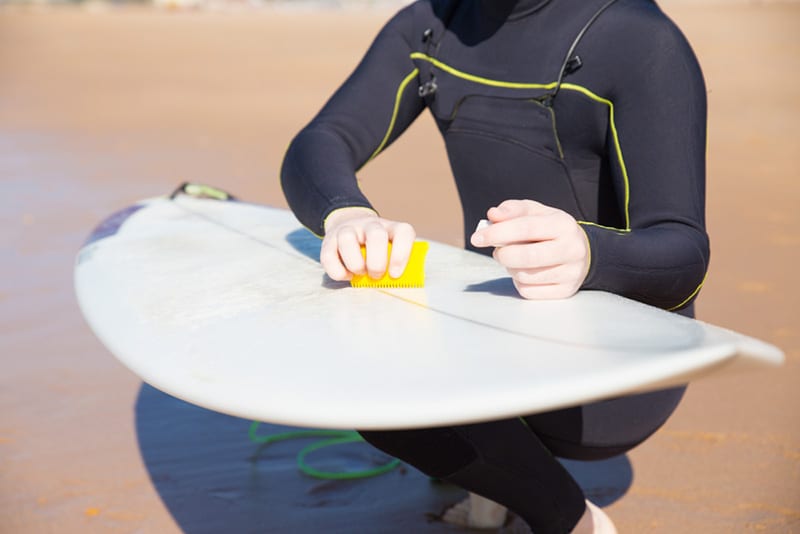 After all the wax has been removed, it is advisable to dry it a little. You can also make it fresher and nice-looking by applying a thin layer of coconut oil. This is useful if you are looking for how to make your surfboard look new.
See the short video below for practical explanation.
How Often Should I Clean My Surfboard?
Having a clean surfboard to ride on is quite appealing, and you'll have the extra motivation to keep up your performance. Therefore, you should give your surfboard proper care frequently, depending on how you use it.
Normally, you are expected to rinse your surfboard after every surfing session. Also, you must wipe it clean and dry. Not just to remove dirt alone but to eliminate further detrimental effects from saltwater.
Saltwater can degrade the integrity of the surfboard (and its skin) while causing scales on it. Indeed, the more cleaning you can do, the better. However, it is ideal to clean your surfboard thoroughly after two months.
You may want to wait a little further if you do not use it often. A surfing location can make your surfboard dirty more easily than another. Just ensure you fix it in your schedule to clean your surfboard regularly.
FAQs
If you have questions related to cleaning a surfboard, then this section is recommended for you. Some frequently asked questions have been answered below. Kindly take a look.
Can I Use Acetone to Clean a Surfboard?
Yes. You can use acetone soaked in a paper towel to wipe off the wax from your surfboard. Some people also make use of plain flour. But what is important is that you do not overdo this.
Does Saltwater Damage a Surfboard?
Saltwater is naturally corrosive, and it is detrimental to your surfboard. However, you can't abandon the ocean because of its salt composition. Hence, it is advisable to know how to clean a surfboard and even dedicate more time to cleaning it properly.
Conclusion
Your performance is dependent on many factors, and a clean surfboard is part of them. Surfboards can get messy, smelly, sandy, and even bear some awkward colors. Definitely, you do not want such on your surfboard.
By knowing how to clean a surfboard, you can prevent such from happening. It isn't a complicated process, and you do not need any big tools. You also need to include a cleaning time in your schedule, probably every two months.
If you have some comments or questions, I'll appreciate it if you send them to me through the comment section. You can help other surfers learn how to clean a surfboard by sharing my article. All you have to do is click any of the social media buttons on the page.